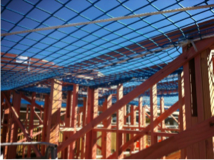 Use of Safety Nets addresses the fundamentals of concerns of the Worksafe N.Z & the industry fight to reduce injury & death  from working at heights.
The Nets provide a collective passive safety solution for potential falls.
The installation of safety netting offers unhindered & increased movement for workers above the net while offering total protection within the affected area below for others to work.
Safety Nets have been used in commercial applications for several years but more recently have been adopted by the residential building sector.
The benefits of Safety Netting are rapidly becoming apparent & are now a mandatory Worksafe N.Z expectation as an internal Fall Safe Mechanism option.
Installations require specialty manufactured nets meeting European Standard EN 1263-1
Installation must by carried out by a certified rigger meeting the criteria as outline by the EN 1263-2 standard.
We use the internationally recognised Rombull Ronet Safety Nets which meet the rigorous standards outlined above. Each net has a unique serial number to ensure it is compliant & suitable for its purpose. The nets are also tested  for U.V degradation on an annual basis.